In this lesson, you will learn to sign all the states in the USA. You will also learn the "topic-comment" sentence structure, and you will continue practicing fingerspelling & ASL grammar. Your instructors in this lesson include Alexandria Wailes, Keith Wann & Rachel Coleman.
3

ASL Grammar: Topic-Comment

6

Conversation Video - Complete

Conversation Video - Part 1

QUIZ: Conversation Video - Part 1

Conversation Video - Part 2

QUIZ: Conversation Video - Part 2

Conversation Video - Part 3

QUIZ: Conversation Video - Part 3

7

Real-Life Practice: Your Turn

8

Deaf Spotlight - Joel Barish
Alexandria Wailes is an accomplished Deaf actor, director, choreographer, dancer, ASL consultant for both film and Broadway, and a museum educator. She has worked with Deaf West Theatre on multiple productions including Big River, Spring Awakening, Judgment Day, Quid Pro Quo, and Our Town. In 2004, Alexandria was a Tony honoree recipient for the Broadway revival of "Big River". In 2007, she received an LA Ovation Award Nomination as Best Lead Female in a Musical for Sleeping Beauty Wakes. In 2018, she performed the National Anthem and "America the Beautiful" alongside P!NK and Leslie Odom Jr. at Super Bowl LII. Recently, Alexandria has worked as an ASL consultant for both "A Quiet Place" and "Wonderstruck". She is currently the ASL coach for ABC's "Quantico" and the Director of Artistic Sign Language for the Broadway revival of "Children of a Lesser God".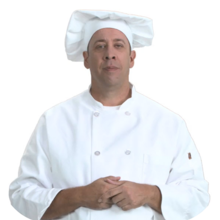 Keith Wann is an actor, performer, writer, producer, father, husband, and a terrible stunt-guy. As a hearing child of Deaf adults, Wann is an original breakthrough performing ASL artist and has been featured in several short films. He currently stars in a popular ASL Children's book app called Signed Stories. His unique combination of side splitting humor with heartfelt real life stories from his CODA childhood has become his comedic trademark among the ASL Community. Along with performing, Keith also maintains his National Interpreter Certification (NIC:Master and CI/CT), works on Broadway providing ASL access, and has been an artistic ASL consultant on video projects for artists including Sia.
Rachel Coleman is a passionate advocate for accessible communication for all children. When Rachel discovered that her child was deaf, she began working to ensure that language was fully accessible in their home. Rachel and her sister, Emilie, co-created Signing Time, a video series that teaches basic American Sign Language in a fun way to children. In 2008, Rachel was nominated for an Emmy for Outstanding Performer in a Children's Series. Through Signing Time, children of all abilities are finding a way to more easily communicate. Rachel continues her work in education and advocacy. She has created multiple children's video series, speaks on issues important to parents, and has established the Signing Time Foundation to promote accessible communication. In 2018, Rachel became the executive director of the American Society for Deaf Children.