In this lesson, you will learn around 85 ASL vocabulary terms related to food. You will also learn more about indexing, pantomime, and continue practicing your fingerspelling, ASL grammar, and conversations. Your instructors for this lesson include Peter Cook, Keith Wann, and Rachel Coleman.
3

Indexing, Pantomime, and More Food Signs

5

Lip Reading and More Food Signs

7

Conversation Video - Complete

Conversation Video - Part 1

QUIZ: Conversation Video - Part 1

Conversation Video - Part 2

QUIZ: Conversation Video - Part 2

Conversation Video - Part 3

QUIZ: Conversation Video - Part 3

Conversation Video - Part 4

QUIZ: Conversation Video - Part 4

8

Real-Life Practice: Your Turn

9

ASL Interview - Peter Cook
Peter S. Cook is an internationally reputed Deaf performing artist whose works incorporate American Sign Language, pantomime, storytelling, acting, and movement. Peter has traveled nationally and internationally to promote ASL Literature. Since 1986, he has been part of Flying Words Project, an ASL poetry troupe that shares the beauty of sign language to Deaf and hearing audiences. He has been a featured performer at numerous storytelling festivals, has appeared in Live from Off Center's "Words on Mouth" (PBS) and "United States of Poetry" (PBS), and has worked with Deaf storytellers and poets around the world. In 2003, Peter was invited to the White House to perform at the National Book Festival. When not traveling, Peter stays busy in Chicago running his own video production company, teaching in the ASL-English Interpretation Department at Columbia College, and telling stories to his son.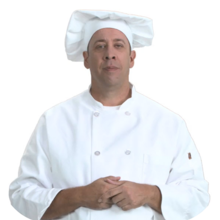 Keith Wann is an actor, performer, writer, producer, father, husband, and a terrible stunt-guy. As a hearing child of Deaf adults, Wann is an original breakthrough performing ASL artist and has been featured in several short films. He currently stars in a popular ASL Children's book app called Signed Stories. His unique combination of side splitting humor with heartfelt real life stories from his CODA childhood has become his comedic trademark among the ASL Community. Along with performing, Keith also maintains his National Interpreter Certification (NIC:Master and CI/CT), works on Broadway providing ASL access, and has been an artistic ASL consultant on video projects for artists including Sia.
Rachel Coleman is a passionate advocate for accessible communication for all children. When Rachel discovered that her child was deaf, she began working to ensure that language was fully accessible in their home. Rachel and her sister, Emilie, co-created Signing Time, a video series that teaches basic American Sign Language in a fun way to children. In 2008, Rachel was nominated for an Emmy for Outstanding Performer in a Children's Series. Through Signing Time, children of all abilities are finding a way to more easily communicate. Rachel continues her work in education and advocacy. She has created multiple children's video series, speaks on issues important to parents, and has established the Signing Time Foundation to promote accessible communication. In 2018, Rachel became the executive director of the American Society for Deaf Children.